Our Trees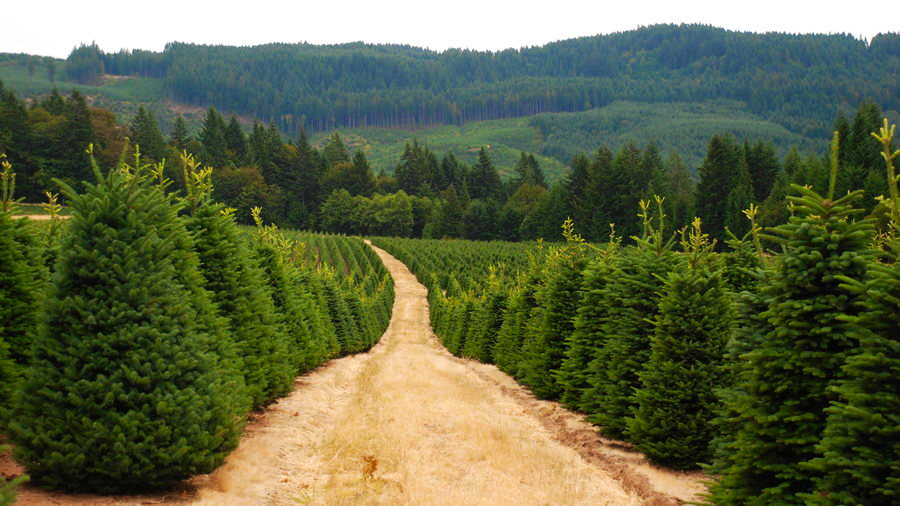 Unlike big chain stores who harvest their trees weeks before they arrive (even before Halloween), our trees are harvested and delivered multiple times a week during the holiday season. Guaranteeing a fresh & beautiful Christmas tree.
Silvertip (Abies magnifica)
Also known as a Red Fir, I am a high elevation tree found in the High Sierras and mountains of California and southwest Oregon. I have a long 1″ green or bluish needle a lot like a Noble Fir. Often referred to as the "original" California Christmas Tree, I'm highly sought after for my strong branches that spread from the trunk in rings with lots of space between. Looking for an ornament show stopper? I'm your huckleberry!
Noble Fir (Abies procera)
I am the largest native fir in North America. My 1-1½″ needles spread in two rows of bluish green with white lines underneath and curve at the tip. My strong branches are ideal for heavier ornaments while my coat is so highly sought after, you typically find me used for garland and wreaths. I'm a solid performer that gives back as my seeds are food for various bird and wildlife as well as providing them with cover and thermal protection.
Nordman Fir (Abies nordmanniana)
Named after a Botanist from Finland, Alexander Von Nordmann, I am often referred to as the "hypo-allergenic" tree due to my lack of fragrance. I have strong branches for heavier ornaments and am earmarked by my deep shiny green look and silvery/white stripe under branch. I'm a great choice for the office and those with sensitive sniffers.
Fraser Fir (Abies fraseri)
I may be the perfect holiday tree, you might even call me presidential! With my silvery green 1″ needles and sturdy branch spacing, I am often easier to decorate than other varieties. I have excellent needle retention when watered well, and am very fragrant all season long. My claim to fame is that I have been chosen more times than any other tree to be the Presidential tree of the White House.
Turkish Fir (Abies nordmanniana)
I'm the newest guy on the farm! I have a very attractive two-tone needle that has a dark silvery-green underside. Most confuse me with my friend Nordman, but we are very different. I have a flatter needle that radiates out from my stem and a strong branch to hold heavy ornaments. Once I'm brought home, my needles retain water very well if I'm kept watered!
Grand Fir (Abies grandis)
My dark green needles arrange in nice flat sprays making me distinctly different from the Douglas Fir, but I still have that sought after woodsy scent. I'm soft to the touch so small light ornaments work best on me. Back in the day, American Indians used my aromatic properties in medicinal teas while my boughs were brought inside as "air freshener". Early settlers used to use me to control their descent from steep slopes. Some of these rope-burned trees can still be seen today off the south side of Mount Hood, Oregon.
Douglas Fir (Pseudotsuga menziesii)
One of the stronger scented Christmas trees, I make up for in scent what I might lack in branch strength. I have a long, flat, spiral needle roughly 1 ½" in length and am named after the botanist and explorer, David Douglas. My branches are made for small, light ornaments. You might call me the "All American" as I helped American Soldiers during WWII providing everything from the wood for footlockers, to portable huts and stretcher rails. To this day, I am still a top source of lumber.